MICROSOFT OFFICE 365
Work Anywhere, Anytime, on Any Device. Office 365 is ready when you are.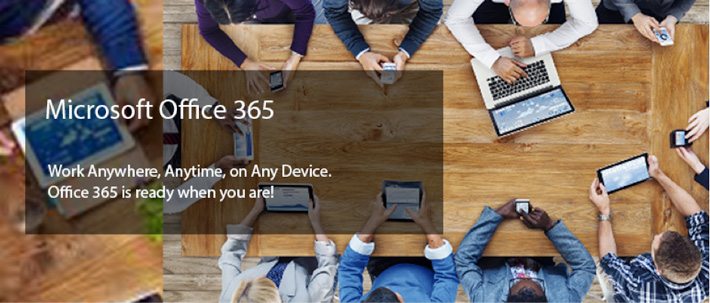 Office 365 is an online or cloud-based information platform provided by Microsoft that delivers a vast range of individual products in a single one-login suite of applications.
Often provided as a monthly subscription, Office 365 can include the full Microsoft Office applications (Word, Excel, PowerPoint, Outlook, Publisher, OneNote) for PC, Mac, IOS and Android; on up to 5 desktops, 5 tablets and 5 smartphones per user.
The digital age is everywhere, and 'cloud' is a well-versed buzzword. Accessing information anywhere, anytime and on any connected device has become an essential part of business.
WHAT DOES OFFICE 365 DO FOR YOU?
Office 365 provides all the cloud productivity programs you need to run your business, and includes additional applications that provide data management, insights, business communications and more.
These range from instant, always-available email access, document storage, voice and video communications and even data crunching on the Microsoft Business Intelligence platform.
All this results in fast, on-demand access to your data and communications, turning business management in a mobile, agile and efficient operation without reliance on any single computer, office environment or location-based storage facility.
When the power is out, internet is down or the computer in front of you just stopped working; rest assured Office 365 will still be there, ready when you are!
WHY IS OFFICE 365 DIFFERENT?
Microsoft Office 365 is available as a per user subscription model. This means you are buying a subscription per user to use the Office 365 platform (referred to as Software as a Service or SaaS).
Instead of buying just a single copy of the Office software program, which historically was used on 1 PC only; as a subscription you can use Office on all your computers or devices, including PC, Mac, IOS, Android. (5 each type per user)
These services are delivered and managed using a cloud-based platform, and you access them by a license subscription, so there is less requirement for an office-based server to hold your emails, data and documents thereby reducing ongoing IT service requirements.
It is recommended to move expected workloads (such as email) to Office as soon as possible. Other granular services such as document management or accounts & invoicing should be planned with a professional IT partner that has sufficient knowledge of the platform to consult on your cloud needs.
The platform includes services such as:
Email and calendars
Microsoft Exchange Online

business-class email, calendar and contacts at your fingertips
familiar interface using Outlook from your desktop or web browser
built in spam and malware protection
File storage and sharing
SharePoint Online

1TB of central company storage + 500Mb (and 1Tb personal) per user
Simultaneous document editing (in desktop applications plus in a web browser)
Full Document Management System (DMS) features including document versioning, external sharing, check-in & out and local sync for offline access.
Intranet, Portals, Workflow Automation & Business Intelligence
Instant messaging and Skype connectivity
Skype for Business

Instant message, voice calls, video chat, status presence
Host online audio/video meetings, PABX phone system options
Search and discovery
Enterprise Security (with relevant license)

Data Loss Prevention; enforce compliance across company email & documents
Rights Management; prevent information leakage, protect sensitive data
Legal Store & Hold; eDiscovery & audit compliant with law requirements
Corporate Video Platform

Business Intelligence

Unparalleled BIG DATA business analytics using Power BI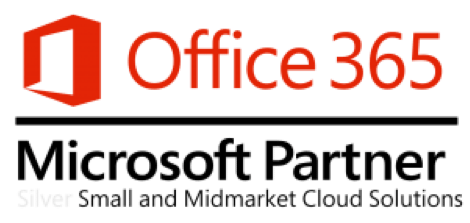 Microsoft is a global juggernaut in the business information space, and essentially the only vendor that can offer a true business integration platform that provides well-known applications of Office, enterprise-grade email, cloud storage, hosted communication and additional included products such as business intelligence and corporate video system.
Office 365 has now become so widely recognised you will find Australian companies such as Coles, V8 Supercars & Caltex Australia are all Microsoft case studies advocating the products great simplicity and features.
All Covered IT understands that such an abundance of cloud services available in the business sector can overwhelm even the biggest cloud advocate, so we have ensured our team have extensive training and expertise in all aspects of Office 365 from license selection, migration, deployment, application configuration and development such as SharePoint information management.






Game of Thrones is the top TV show used to deliver malware-infected pirated content, researchers at Kaspersky Lab have found. Threatpost says the researchers saw nearly 21,000 users attacked in 2018, even though no new episodes were released last year. These numbers...
All Rights Reserved © 2017 All Covered I.T Services Gold Coast | Cnr Warehouse Avenue, Southport, Gold Coast QLD 4215 | Ph: 07 5528 6663